four
π

loudspeaker performance data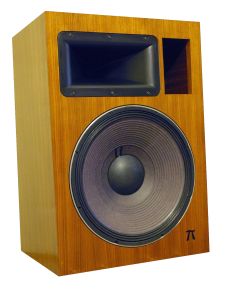 Our four "π" loudspeaker is the result of decades of refinement and hundreds of hours of extensive development and testing. It provides high-fidelity and uniform directivity, and is efficient enough to provide room-filling sound even when driven by low-powered single-ended triode amplifiers. It also has the thermal capacity to handle several hundred watts of amplification without distortion or stress. This wide range of power levels provides exceptional dynamic range, making the four "π" loudspeaker suitable for critical listening, studio monitoring and home theater applications.
We recommend these speakers to be set on stands at ear-level with toe-in that crosses the forward-axes just in front of the listening position. This gives the best stereo image.
We also suggest placement away from walls but room limitations often require the speakers to be set near a wall, usually the one behind the speakers. Flanking subs can be employed to mitigate lower-midrange reflections. Bass extension is more than adequate with or without subwoofers, but the use of flanking subs smooths the modal region while simultaneously increasing deep bass extension.