two
π

tower speaker performance data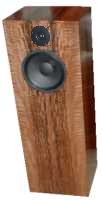 The two "π" tower speaker uses the same components as the bookshelf model, but its larger size affords it much greater bass extension. It provides high-efficiency and deep, full bass response.
It satisfies four basic requirements: The first requirement is that it must sound great. The second is that it sound great with little input power. The third requirement is that it provide deep bass extension. And the fourth requirement is that it be relatively inexpensive. To reach these goals, we've used only the most efficient components. It has a larger cabinet, in order that it be able to hit the low notes. But being a tower, it doesn't take up much space in the room.
The two "π" tower is efficient enough to work well with low-power amplifiers yet durable enough to handle high power, delivering high sound pressure levels. It works very well as a stereo main speaker with enough deep bass response to make subwoofers unnecessary. It is perfect for use as a main speaker in high-fidelity stereo systems and home theater. Its deep bass response makes it attractive for setups where subwoofers can't be used or aren't desired.